Here it is! As you can see from the photos below, there is going to be a RWD and Dual Motor AWD up for sale, which is a pleasant surprise as the latest rumors I had heard stated AWD only.
| | | | | |
| --- | --- | --- | --- | --- |
| Trim: | After Fuel Savings | Before Fuel Savings | Range (EPA) | 0-60 |
| Long Range RWD | $42,700 | | 300 Mi | 5.5s |
| Long Range AWD (Dual Motor) | $46,700 | | 280 | 4.8s |
| Performance AWD (Dual Motor) | $55,700 | | 280 | 3.5s |
Long Range RWD: Standard range production is expected to begin early 2021.
Long Range AWD (Dual Motor): Tesla All-Wheel Drive has two independent motors. Unlike traditional all-wheel drive systems, these two motors digitally control torque to the front and rear wheels—for far better handling and traction control. Your car can drive on either motor, so you never need to worry about getting stuck on the road. If one motor stops working, you can safely continue to your destination with the second.
Performance AWD (Dual Motor):
Model Y Performance includes:
Quicker acceleration: 0-60 mph in 3.5s
Top speed: up to 150 mph
20'' Performance Wheels
Performance Brakes
Carbon fiber spoiler
Lowered suspension
Aluminum alloy pedal
Track Mode
Exterior Colors:
Solid Black (Included)
Midnight Silver Metallic ($1,500)
Deep Blue Metallic ($1,500)
Pearl White Multi-Coat ($2,000)
Red Multi-Coat ($2,500)
Wheels:
18" Aero Wheels (Included)
19" Sports Wheels ($1,500 - Included with Performance)
Interior Color:
All Black - Included
Black and White ($1,000)
Includes:
12-way power adjustable front and rear heated seats
Three independently folding 2nd row seats
Premium audio – 14 speakers, 1 subwoofer, 2 amps, and immersive sound
Satellite-view maps with live traffic visualization and navigation
In-car internet streaming music & media
Internet browser
Location aware automatic garage door opener
LED fog lamps
Tinted glass roof with ultraviolet and infrared protection
Auto dimming, power folding, heated side mirrors
Music and media over Bluetooth®
Custom driver profiles
Center console with storage, 4 USB ports and docking for 2 smartphones
Interior Layout:
Five Seat Interior (Included)
Seven Seat Interior ($3,000 in 2021)
Autopilot
$3,000 ($4,000 after delivery)
Enables your car to steer, accelerate and brake automatically for other vehicles and pedestrians within its lane.
Full Self-Driving Capabilty
$5,000 ($7,000 after delivery)
Navigate on Autopilot: automatic driving from highway on-ramp to off-ramp including interchanges and overtaking slower cars.
Autopark: both parallel and perpendicular spaces.
Summon: your parked car will come find you anywhere in a parking lot. Really.
Recognize and respond to traffic lights and stop signs.
Automatic driving on city streets.
This is the cheapest possibly way you can order the car right now: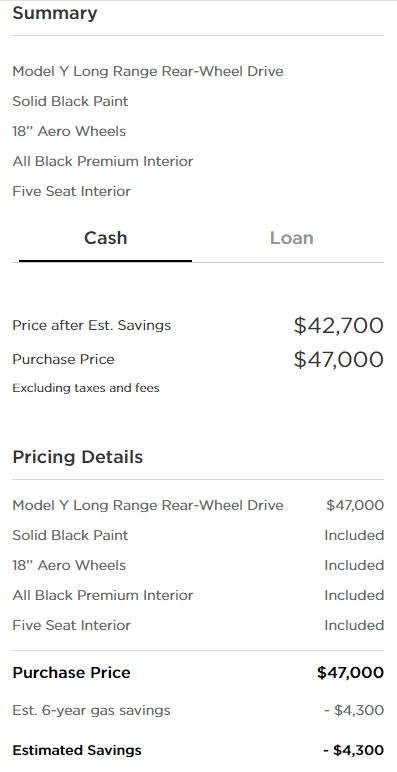 And this is with all the options ticked: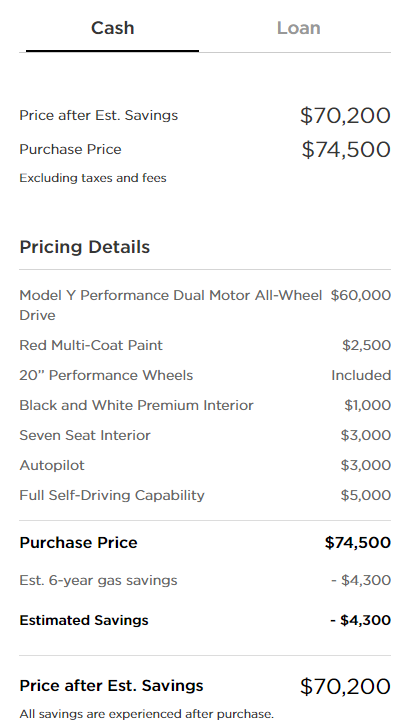 Reservation price is $2,500